Pebbles Assistive Research History
Ten-year old Jennifer Rossman of New York has found the Remote Commander and Shortcutter programs to be very valuable as a replacement for the keyboard and mouse. Jennifer has a form of Muscular Dystrophy known as Spinal Muscular Atrophy, Type II.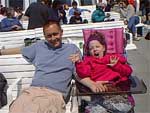 Jennifer's father, Drew Rossman set up a web page to help explain how to use these programs. See his letter below.
There is a nice article about this use of the Pebbles software in the February, 2001 issue of Quest magazine from the Muscular Dystrophy Association - USA :
Jennie Borodko Stack, "Palm Pilot Connects Girl with Classroom," QUEST, Volume 8, Number 1, February 2001
http://mda.org/publications/Quest/q81palmpilot.html
Also mentioned in the Pittsburgh area MDA newsletter:
"Using Palm Pilots to Help Control Computers," MDA Messenger, (serving Southwestern and Midwestern PA), Winter, 2001, p. 7
Also mentioned in articles at:
Letter From Drew Rossman
Date: Fri, 3 Nov 2000 09:22:24 -0500
From: "Drew Rossman" <drossman@stny.rr.com>
I am the father of a handicapped child. She has a form of Muscular Dystrophy know as "Spinal Muscular Atrophy, Type II." I would, first, like to let you know how valuable a tool the remote commander has been to her. The range of motion she possesses is limited and we have found this Palm application to be of the greatest assistance.
Secondly, I would like with your permission to possibly expand the use of this software, to what I am sure is a group of folks out there, who unknown to them, an alternative to expensive assistive devices is available. I would like to via the Muscular Dystrophy Association, possibly let others know that they to can partake of this, what I view as, an extremely important tool to those less fortunate.
Have a Great Day!
Drew Rossman
(see more about their use of RemoteCommander)